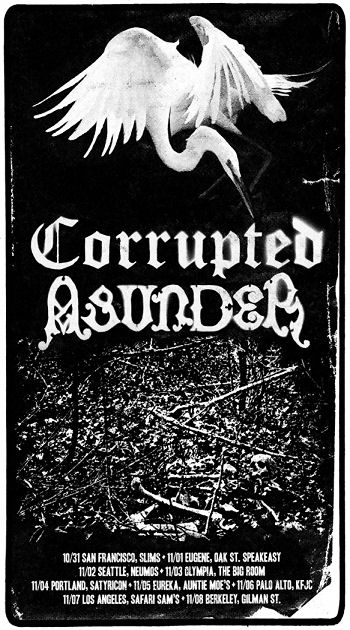 Well over a decade ago, Corrupted first crossed the Pacific ocean to bring some of the most crushing sludge the human ears could handle, or maybe not. This time around the guys are a bit older and their sound has branched out to a sometimes clean and more atmospheric sound. All the while still remaining heavier than almost everyone (or maybe everyone). Below is footage from the show they played at the Satyricon in Portland,OR 11/4/08 the same day as the US presidential election where the young guy beat the old guy.
Aldebaran is easily the best doom band in Portland, and I would probably say in the Pacific NW. Below is 3 short clips from their opening set. This show was the debut of their new guitar player, and with their other guitar player doing vocals. Turned out pretty well. Click the link above and check out their recordings.
ASUNDER
Touring with Corrupted was Asunder from the Bay Area. They mix the heavy with the pretty quite well and have that extra touch of ambience with the candlelight.
CORRUPTED
I only recorded bits of their performance due to the fact that they only played one song which was well over an hour, and I didnt wanna miss anything fussing with a camera. There is basically no picture since they had very little light on stage, but you can kind of tell how powerfully loud they were by the video